Every Parent's Nightmare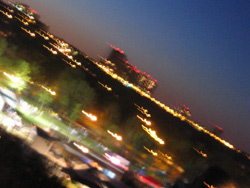 Yesterday afternoon, the body of Robert Barrington Leigh (www.findrobert.ca was the official search site) was found in the North Saskatchewan River. The 20 year old scholar had been missing since August 13. For the past week and a half, it has been impossible to walk more than 10 feet in my neighbourhood without seeing Robert's missing person poster. The image of his young face was everywhere. The search effort was concentrated in the valley just below my dwelling, and I regularly saw searchers doing their thing. I think that everybody in this city suspected that this story would have a bad ending, but just the same, news of Robert's body is heartbreaking and raises more questions than it answers. At the time of this writing, the cause of death had not been determined. The Police do not suspect foul play, but I think it's too early to rule it out completely. We'll have to wait for the autopsy details to surface.
Needless to say, a situation like this is, quite literally, a parent's worst nightmare. Your kid leaves your house like he's done a thousand times before. Doesn't come back. You panic. Fear of the worst kind consumes your life. The community rallies around your strife and pitches it's best hand in trying to find your son. Missing person posters go up everywhere. You set up a website. Hundreds of volunteers get involved. Then it all comes crashing to a halt when your boy's body gets fished out of the North Saskatchewan. Twenty years old and a bright future ahead of him. Leaves everyone behind. Your kid could have done anything. Your only consolation is that knowing he's dead is better than not knowing what happened at all.
Today, my thoughts and best wishes are with Robert's family. Nobody should have to endure what they've gone through. Nobody should have to bury their own children. Here's to you, Robert. Take 'er cool, wherever you may roam.
Vignette #105
August 22, 2006