The Fugitives Rock The Raving Stage on Wednesday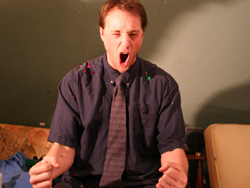 Long-time friend of The Raving Poets, Brendan McLeod, returns to Edmonton on Wednesday, March 14, 2007. Last time he was here he blew the doors off the Edmonton Art Gallery at the Roar finale. This time around he's bringing his band, The Fugitives. These guys are the real poetic deal, and you'd be a fool to miss them. The show is brought to you by Edmonton's premier purveyors of spoken-word awesomeness, The Raving Poets (full event details below). If you're into it, an eight-reader open mic will start the show. Get there by 7:55pm to have a chance at getting on the open mic. $5.00 door charge in effect.
The Fugitives are a troupe of four high energy storytellers, multi-instrumentalist musicians, singer/songwriters, and award winning poets. They run the gamut from comedic to hard-hitting, insightful spoken word, and combine it with adventurous song structures performed on piano, accordion, guitar, banjo, melodica and harmonica. Combining four fresh, diverse voices into one eclectic sound, The Fugitives are a group of road dogs that toured Europe four times, as well as a tour of Canada.
The Fugitives are:
Brendan McLeod: Canada's spoken word individual champion in 2004. (poet, singer, guitar)
Barbara Adler: 4 time member of Vancouver's slam team and Canadian champion Vancouver poetry slam team. (poet, singer, melodica)
Mark Berube: "Banned in Canada" winner 2005. (singer, poet, piano, accordion, guitar)
Mysterious Fourth Member: Won the Fields Medal in 1998. Once smoked hydroponic pot with Leonard Cohen. Has admitted to being published by poetry.com.
Trust us, you don't want to miss these guys. They rock harder than twelve hurricanes.
The Raving Poets Present
The Fugitives featuring Brendan McLeod
Wednesday, March 14, 2007
Yianni's Taverna, Kasbar Lounge
10444 – 82 Avenue, Edmonton.
Doors 7:30, show 8:00.
$5.00 DOOR CHARGE IN EFFECT
8 reader open mic before the show.
Vignette #174
March 12, 2007