Jesus Folking Christ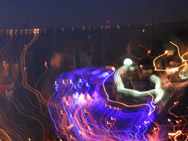 I just got in from the first night of the Folk Festival, and I'm high on the whole thing. I got home from work completely bagged and considered bailing, but I'm glad I didn't. What a fucking hot night of music. Not literally of course. It was a shivery 12 degrees for most of the night – not too comfortable, but just cool enough to keep everyone on their toes. And the fellowshipping. The first night of the festival always feels like a reunion. I always seem to run into some long lost relations. Such a great vibe to the thing. I don't recognize too many of this year's headliners, but that's cool. It's thrilling to discover "new" artists, both old and modern. After demolishing some blissfully unhealthy festival food (Onion Blossom – don't try it), we hit the hill. City and Color put on a great show, including a fantastic version of The Band's old warhorse, The Night They Drove Old Dixie Down. Truth be told, I found Dallas Green's whole schtick (head to toe tats, flannel shirt, bushy beard and fedora) tired and contrived. The guy does have a helluva voice, though, and I give him huge props for that. Nanci Griffith closed the night down with class and style. For my money, the true highlight of the night was her version of From A Distance, during which I must admit to a bit of a lump in my throat. However, it wasn't until she pulled out Tom Waits' Grapefruit Moon that she truly made her way into my heart. Any woman who covers Tom is in there, no questions.
One night and two more days of music to go. I'm really looking forward to Buck65, and of course my old pal Utah Phillips. Ah, yes. Some say "good 'ole Utah", and some tell the truth. Remind me to tell you about a saloon gig I did with Utah back in '02, Charleston, West Virginia. Interesting to say the least, and lets just say that Utah and I cant't walk into Murray's to this day. A real shitshow. Long story.
Vignette #221
August 10, 2007