Two Hundred In Bloody Ink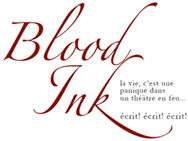 This Saturday, the good fellows and fellowesses down at Blood Ink are throwing a little poetry slam party and are giving away two bills1 to the slammer with the best chops of the evening. Not sure on the rules of engagement, but it should be a smackfucking hamboner for sure. Justine and I will be waddling our sorry asses down there. The Just isn't planning to kick it out, but she's promised to cheer me on even if I make a colossal ass of myself. I'm not exactly a "slam" type of poet or performer, but I've got a few pieces in the repertoire that might do the job. It's been awhile since I performed any of them so a memorizing run through will definitely be required. Should be an interesting night. Slam poetry has always kind of mystified me. So few people seem to get it right (Brendan McLeod is one guy who pounds it out proper). And the ideas of "slam poetry teams" and the like always seemed kinda whacked to me, but hey. The energy and quality of performances are undeniable.
If nothing else, come Saturday night, you'll hear some compelling verse. Not a bad way to spend a Saturday, if you ask me. If you're interested, come on down and check out the action. And, it might not be too late to sign up, if you think you can knock it out. Sign up here if you're up for it. Details below.
Blood Ink Presents:
Help Kill Art – Poetry Slam
Saturday, October 27, 2007.
8:30pm – 11:30pm
City Arts Center, 10943 – 84 Avenue, Edmonton.
Top Prize $200.00
$5.00 suggested donation to get in.
Blood Ink Site to signup & details
——
1 $200.00
Vignette #234
October 24, 2007