Top 5 Edmonton Bus Routes
I've spent a fair amount of time on the 'ol ets, and I've got a few opinions on which routes rock and which ones are duds. By nature and necessity some routes are boring and utilitarian. Others traverse the best scenery that Edmonton has to offer. I'd like to make a serious recommendation to all the car drivers out there: If you're ever looking for something different to do and you've got an entire evening or day to do it, consider hopping on a bus. You'll get a solid dose of real humanity. I'm not promising that your bus adventure will be fun, but it'll be interesting if nothing else. If you live in E-Town and would contemplate such a trip, drop me a line. I'd be glad to make some suggestions. Short of that here are my five favorite E-Ville bus routes, presented in no particular order. Route map links go to takeets.com, the official Edmonton Transit website. All maps are in PDF format.
Route 52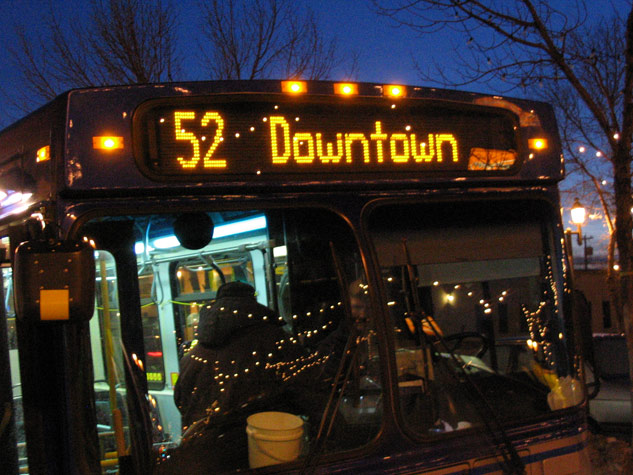 This scenic and studly route starts in downtown E-Town and winds its way to Southgate in the city's South central end. It makes a brief stop at the decrepit and almost pathetic Government Center bus shack before sailing over the high level. It dovetails from the southern terminus of the bridge on to Saskatchewan Drive east which is arguably the most scenic stretch of road in the city. During the two minutes or so that the rig is on Sask drive, you will see the town's best of view E-Town's downtown core – a sight that inspired this very weblog. It then crosses Whyte Avenue perpendicular and winds through some 70's vintage housing which is a great sight if you're a house hound. It nips in behind Mo's sport bar and the old Earl's before steaming on to Southgate mall. A real hummer, especially in the winter. [Route 52 Map & Sked]
Route 5
Starting in the somewhat trashy Westmount/North Glenora neighbourhood (not to be confused with the beautiful and refined Glenora neighbourhood), this route passes the crumbling eyesore formerly known as the Charles Camsell Hospital before trundling down 124 street and onto Jasper Avenue. It traverses some of E-Town's trashiest areas – including the "red light district" of downtown – and ends up at Coliseum LRT Station. It's a lower-working class route with all the charm of a dirty needle and a scuffed steel toe. Highly recommended, and whatever you do, don't give the beggars a cent. [Route 5 Map & Sked]
Route 3
Ah, I'll always have a soft spot for the mighty number 3 and all its blue-collar glory. One of the beautiful things about the 3 is that is remains a trolley route (not every bus on the route is a trolley, but most are). That alone is worth the price of admission. Birthing from the guts of the West End, Jasper Place Transit Center, The three hits all the required west end hot spots. The Great Canadian Brewhouse (a haven for almost-ran industrial salesmen and Jager-swilling tradesmen). Saint Pete's Gentlemen's Club – where tossing loonies (and tossing a salad, from what I hear) is considered a dark art. I have to insist that route 3 – like all bus routes, truth be told – is best experienced at night, preferably in the winter. When it yammers down 118 avenue between 156th and 124 streets, you will come to appreciate and perhaps even love the beauty of the temporarily abandoned industrial parks. [Route 3 Map & Sked]
Route 128
One of the few routes that traverse Groat Road and slam into the River Valley. The 128 is my daily ride so I have soft spot for her. When she pulls into the U of A barn at 7am, minus 30 no sun for another hour, it's like a gift from the creator. It's usually an old silver rig – the ones with the red seats and loud power plant. She starts at The U and crosses the river on Groat. The few minutes that she spends in the valley should be savoured. I could write a book about the sight of the sunrise from Groat bridge. Takes a small tour of North Glenora before heading up to Westmount for a watering and then plows on to Castle Downs. This route is rarely standing room and I hope it stays that way. [Route 128 Map & Sked]
Route 8
The sight of the 8 on the road reassures me that everything is right in the world. I do believe that if the terrorists nuked us and the planet died screaming, the 8 would still be running. Starting in the not-so-mean streets of Mill Woods, the 8 climbs northward on an epic journey that sees her traversing the entire eastern half of the city, docking at no less that five transit centers along the way. Perhaps her most illustrious stop is at Kingsway – a stop that connects her with any other part of the city. The 118th avenue leg is perhaps the hilight, wherein she passes some of the best, down and dirty 70's vintage housing in the city. [Route 8 Map & Sked]
I hope you enjoyed this mini-tour of the Edmonton Transit System. Looking for someone to ride the city scows with? Drop me a line. If I'm not busy, maybe I'll join you. Until then see you out there. Helly Hansen season is just around the corner. 'Member to bundle up, and always check the time on your transfer.
Vignette #238
November 15, 2007