The Death of Ali's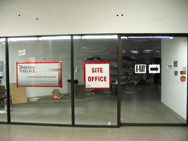 If you grew up on the north side (north of the Yellowhead that is) during the 80's, and if you listened to metal, choked weed or both, at some point you probably made a trip to Ali's T-Shirts in the super-shitty Northtown Mall. The place was a Mecca for rock shirt aficionados, pot heads, punks, and miscreants alike. I spent much time and money there, mostly debating the merits of one Zeppelin shirt over another, or how one Sabbath backpatch was inherently cooler than another. The proprietor (I hesitate to call him "Ali", because that might not have been his name) was always genial and always willing to make a deal. His stock was phenomenal – he had every size in everything, always. On a recent trip to Northtown Mall, I was shocked and saddened to see that Ali's T-Shirts had packed it up for good. Gone, like the resin from a freshly scrubbed bowl.
Of course, the "rock shirt" is not as iconic as it once was. When I was 13, that's all I owned. My daily wardrobe decision was this: "Should I wear Van Halen, Zeppelin, or Maiden today?" I even made my own concert shirts for shows that I wished I had attended. These days, the rage in t-shirts is "ironic" or "clever" (see Threadless or Busted Tees). Some of the old-school shirts have made reappearances. Just the other day I saw a gussied-up version of my old Maiden Live After Death shirt, the one I wore to a Dylan show in '88 and nearly got my head smashed by a pair of drunken bobfans. I've got a trunk full of old concert tour shirts – AC/DC, Aerosmith, Poison, Maiden, Van Halen, Robert Plant, Motley, The Who. None of 'em fit any more but I can't bring myself to get rid of them. Many booze-fueled concert bowl memories.
These days, sporting a Maiden shirt is either a tongue-in-cheek nod to one's youth (by those old enough to have known Maiden in their prime) or an attempt at some sort of retro cred, kinda like me when I dig out my Clash shirt and contemplate wearing it to the inlaws. Wearing shirts for new bands seems disingenuous somehow – like the old music was more honest and mattered more. Perhaps with ever-broadening musical options, wherein possessing wildly "eclectic" taste is the norm, declaring allegiance to any one band or form of music is simply passe. Ali's T Shirts was one of the last of the old school head shops. Despite some cool t-shirt shops cropping up here and there, it remains the most storied and fondly remembered shop for a certain segment of Edmonton North-siders.
Vignette #248
February 6, 2008