Mitchell Industrial Park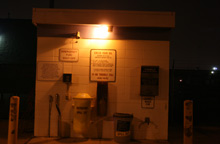 The wife and I took a little jaunt a few days back to shoot some night time photos of one of my favorite areas of the city: The west end industrial parks. They are fascinating places to me. Don't ask me why. It's weird. Anyways, here's a slideshow. Enjoy.
Some Saturday night dates we are, huh?
Vignette #255
March 23, 2008