"It Ain't Over Yet"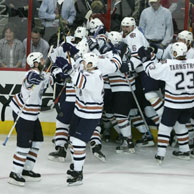 Such are the words out of everyone's mouth today after last night's game and what was easily the most thrilling game of the Oilers playoff run. This morning's coffee shop was abuzz with talk of "The Goal", Fernando Pisani's overtime, short-handed ringer that bagged the game for the Oil. Strangers were talking to strangers, vigorously discussing the contributions of Todd Harvey and Ales Hemsky. The girl behind the counter was all a-titter over the win, going as far as breaking company dress code by proudly wearing an Oilers jersey. The talk on this morning's bus ride was the same – everyone telling the story from their point of view. One girl, a morning regular, emphatically described her disappointment at not being able to bring a hockey stick onto Whyte Avenue after the game. "They let me take my flag in, but I had to leave the stick behind," she lamented.
Maybe I'm a sadistic bastard, but I had to laugh at the footage of the dejected "Caniancs" last night. Especially at the little boy crying beside his consoling mother. The little gaffer most likely thought that the Hurricanes had it in the bag, and that he'd see Brind'Amour hoist the cup by game's end. Turns out the little sucker got a real good lesson in big-time disappointment, the kind of disappointment that we in E-Town have lived with for the better part of 15 years. Footage of dejected fans on the verge of weeping made the Oil's victory all the more sweet.
And now the boys gear up for game six, backs still against the wall. I do believe that Rexall Place will explode on Saturday night – the final home game of the season. Whatever happens, I know that the fans in attendance will do us all proud by raising the roof and doing all they can to help the Oil force a seventh game. And if the unthinkable happens, at least the team will be in front of 17,000 proud-as-hell fans when it does. But it won't. It ain't over yet.
Vignette #85
June 15, 2006