The Wednesdays - On Their Way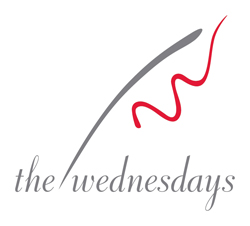 This week is Roar Week here in the city of champions. The Roar is a three-day spoken-word / poetic melee that runs on September 21, 22, 23. I'm the festival producer of The Roar. A ton of hot, hot, rockin' events are lined up (including MY reading, "Mike Gravel and the Underground Gynecologists" – more on that later in the week). It also happens to be the week of the Edmonton Poetry Festival, Edmonton's newly-minted week-long poetry bash. The best reading of the EPF, in my humble opinion anyways, will most definitely be a reading by the infamous "Wednesdays", a group of five women to whom Wednesday is a day of coming together in common purpose and passion: to write. They get together on Wednesdays, talk about poetry and all its vagaries, down a sniff of whiskey, and do some writing. Not a bad way to while away the mid-week doldrums. The Wednesdays (or as I like to call them, "The W's") have made the crappiest day of the week a day of community. There's a catch to this Poetry Festival reading by The Wednesdays. This week, The Wednesdays are reading on a Tuesday. THIS TUESDAY. TOMORROW. Here's the full skinny:
The Wednesdays: On Our Way
Poetry by: Beckie Garber-Conrad, Cathy Hodgson, Kerry Mulholland, Rebecca Schellenberg, and Amy Willans.
Tuesday, September 19, 2006
The City Arts Center
10943 – 84 Avenue, Edmonton
Doors @ 6:30pm; performance at 7:00pm
Hosted by uber-MC Michael Gravel.
Admission $5.00 at the door.
Fine Poetry, wine at a modest price, and good things to eat.
It's sure to be a hot night of verse. I'll be hosting the affair. Should be a blast. Check it out!
Coming Wednesday: Mike Gravel and the Underground Gynecologists.
Vignette #113
September 17, 2006